Presentation of the domain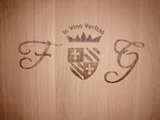 The domain Florent Garaudet is located at the very heart of Burgundy's Côte de Beaune, in the village of Monthelie, between Volnay and Meursault and around 7 km south of Beaune.
Growers from father to son, Florent Garaudet is the 5th generation to cultivate a part of the family domain.
Approximately 60% of the 3 hectares domain is planted in the Pinot Noir variety on those vineyards surrounding Monthelie, whilst 40% is planted in Chardonnay and extending over the appellations of Meursault and Puligny-Montrachet, with a further small parcel of Aligoté vines in Puligny.
Pratical informations
The Domain Florent Garaudet is open from 8.00am to midday and from 1.30pm to 6.00pm, Monday to Friday.
However, the veritable nature of our work is such that we would ask to please contact us by telephone (+33 (0)6 87 77 01 28) or by email (florentgaraudet@orange.fr) prior to your visit, so that we may assure you of the warmest of welcomes.