The vinifications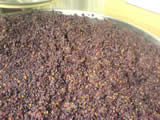 At the moment of harvest, the bunches are brought to the cuverie whole and is small containers to maintain quality.
The grapes are vinified with the utmost care to retain their intrinsic qualities and following traditional methods, while alcoholic fermentation ensues naturally with the yeast present and without the use of any chemical products, further emphasizing the notion of terroir.
The legend of vatting will vary depending on the style of the vintage, since every year is different, though twenty days is the average. Pressing of the white grapes will be similar to the reds, with a moderate degree of skin contact so as to enrich the first, highest quality juice.
The wines will then be racked off, naturally by gravity, into oak casks in our two-hundred year old cellar.
Ageing is entirely in French oak barrels, made from wood rigorously selected from a range of different origins, with approximately one-third new barrels each year.
Once again depending on the particular vintage, the ageing process will vary between 8 and 18 months for the whites wines, and from 12 to 18 months for reds.